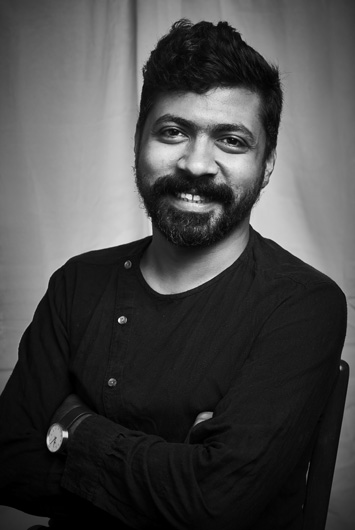 BIO:
Sameer Kulavoor (b.1983) is a visual artist living and working in Mumbai, India. His work lies at the intersection of art, graphic design & contemporary illustration and has taken the form of paintings, murals, books, zines, prints and objects. He is interested in why things look and work the way they do; constantly noting and understanding the impact that time, culture, politics and socio-economic conditions have on our visible and invisible surroundings. In this age of visual overload, his work involves filtering, dissecting, documenting and defamiliarising commonly seen subjects through the act of drawing, painting and design – often oscillating between instinctive and conceptual methods of making.
Some of the zines he has produced include Sidewalks & Coffeeshops (2009), Zeroxwallah Zine (2011), The Ghoda Cycle Project (poster-book, 2012), Blued (book/zine, 2013) and Oh Flip (flipbooks, 2013). He exhibited The Ghoda Cycle Project at WDC Helsinki in 2012 and in Mumbai in 2013 while also collaborating with Paul Smith on a series of Ghoda Cycle Tee-shirt designs which were released worldwide. He presented select sketchbook drawings from between 2012 and 2016 as large serigraphs at Artisans', Kalaghoda, in a show titled 'Please Have A Seat' (2016). He has been working on a number of large scale public art projects and paintings which are on view in Auckland (New Zealand), Mumbai, Bengaluru, Delhi and Chennai. 'A Man of the Crowd' (2018) was Kulavoor's first solo presentation at TARQ. Later that year, he was invited as a fellow at the SQW: Labs Fellowship – a 3-month programme in Mumbai for cultural practitioners from all over the world. In 2019 two of his works were showcased at the TARQ booth group show at India Art Fair. His drawings and paintings were part of 'The Shifting City' – Mumbai pavilion of 'Making Heimat – Arrival City' at the Goethe Institut Max Mueller Bhavan in 2019 curated by Kaiwan Mehta. This is not a still life, his series of works that talk about rapid vertical urban development and change by looking at commonly seen street-side temporary arrangements of objects, were part of a group presentation at the TARQ booth and also installed as the facade design of the India Art Fair 2020. His second solo You Are All Caught Up at TARQ included work made between 2018 and 2020 (through the pandemic) and saw shifts in his work approach. Most recently, his work was part of Lokame Tharavadu, a large scale contemporary art survey by the Kochi Biennale Foundation curated by Krishnamachari Bose, for which he also created a large scale public mural.
Kulavoor was the founder of Bombay Duck Designs which is presently directed by graphic artist + urdu/arabic typography specialist, Zeenat Kulavoor. In 2010, along with artist/designer Lokesh Karekar (Locopopo), Kulavoor also founded and curated six issues of 100%ZINE (currently on hiatus) – a visual arts magazine that discovers and showcases a wide range of visual art talent from India and abroad. Early 2020 saw the launch of Everyday, a series of zines that broadly looks at 'everyday' from different perspectives. In an effort to explore new formats of art books and storytelling, each volume is an experiment created using images and words by one artist & one writer. The project is conceptualised and designed by typographer and designer Zeenat Kulavoor, curated and edited by Sameer and writer Phalguni Desai.
He is represented in India by TARQ Mumbai.
FEATURES, PRESS AND INTERVIEWS:
Feature in It's Nice That (2021)
'The art of looking around' (podcast – conversation) Marine Lines with Raghu Karnad  (2021)
In conversation with Shalini Passi – MASH India (2021)
In conversation with Design India Magazine (Pool 126) (2021)
'You are all caught up' feature and interview in MintLounge (2021)
'You are all caught up' featured in ArtIndia Magazine (2021)
'You are all caught up' feature + on the cover of Domus India Magazine (2020)
'You are all caught up' featured in Mid-Day (2020)
Wall of Gratitude in Architectural Digest India (2020)
Psychosomatic (Lockdown diaries) in Art India Magazine (2020)
Art in an apocalypse – Hindustan Times (2020)
Interview/studio-visit with John Ros – Studio ELL (2020)
In conversation with The National News – the middle east (2019)
Visual Notes- Lonely crowds in Domus India (2019)
In conversation with Art Radar Journal (2018)
BOOOOOOOM Editors Pick (2018)
Design Fabric features 'A man of the crowd' (2018)
'A man of the crowd' featured in The Hindu  feature 1 & feature 2 (2018)
'A man of the crowd' featured in Colour Quotient (2018)
Architectural Digest features 'A man of the crowd' (2018)
Hindustan Times  features 'A man of the crowd' (2018)
Design Fabric (Interview about the Godrej mural 2017)
Verve Magazine  (Interview in Design special issue 2017)
GQ India – 50 most influential men. (2016)
Elle Decor 15 young Indian artists to follow right now (2016)
Homegrown.in features 'Please have a seat' (2016)
Mid-Day  features 'Please have a seat' (2016)
The Hindu features 'Please have a seat' (2016)
Hindustan Times  (Interview – 2016)
Kyoorius Design Magazine – Feature 1 (2013) – Feature 2 (2016)
GQ India – 50 most influential men. (2015)
NIKE BleedBlue campaign hoardings (2015)
PaperPlanes (Interview – 2015)
Kulture Shop blog (Interview – 2015)
Masala Chai – South Asian art & design blog (Studio feature – 2015)
Wallpaper city guides – Mumbai (Work mentions – 2015)
Kyoorius Black Elephant (2014)
Bacardi Untameables video feature (2014)
Radio New Zealand (Interview/feature – 2014)
Forbes India – 30 under 30 (2013)
Its Nice That – Feature 1  (2012) – Feature 2 (2013)
NH7 (Interview/feature 2013)
Grazia Indias cool list (2013)
Mid-Day (Feature/interview Paul Smith collab – 2012)
With Teal Triggs on Zine Weekly (Interview 2010)
…..
Find me on
Instagram : Sam_Kulavoor
Twitter : Sam_Kulavoor
…..